21st February 2023
Northern Trust Company is pleased to confirm that MGM Building & Property Maintenance Ltd, have completed the letting of Unit 10A on their Tanfield Lea (North) Industrial Estate in Stanley. The letting was completed on a 3 year tenancy agreement.
MGM Building & Property Maintenance Ltd, have worked as a contractor for Northern Trust since 2016. Their business predominately covers, refurbishment of industrial units including plumbing works, decoration, cleaning, waste removal, maintenance works and external decoration works. The company is run by husband and wife team George and Tanya Michiels.
Tanya commented about their new premises "We are so proud our business has grown and we are now able to acquire an industrial unit from Northern Trust on a lovely estate. We are looking forward to having the space for our business to keep expanding and a base to run it from instead of home. We enjoy working alongside Northern Trust staff and other organisations to ensure their tenants and future tenants are happy with the standard of the units we work on."
Tanfield Lea (North) Industrial Estate comprises seven terraces split into 28 single-storey workshop / industrial units, providing a total of 53,759 sq ft. The estate is located to the north of Stanley town centre, 11 miles from Newcastle and 12 miles from Durham.
Tanfield Lea is actively managed by Northern Trust's in house managing agents, Whittle Jones. Steven Porter, Regional Property Manager at Whittle Jones North East commented "We have worked with MGM Building & Property Maintenance for a number of years now, with them helping on the property maintenance of our sites across the North East portfolio. I am therefore delighted we were able to satisfy George and Tanya's occupational requirements, and I am pleased to welcome them to their new unit at Tanfield Lea. I look forward to continuing to work with them on our maintenance and refurbishment projects."
For further details and current availability at Tanfield Lea (North) Industrial Estate please contact the North East office on 0191 221 1999 or via email at northeast@whittlejones.co.uk.
- End –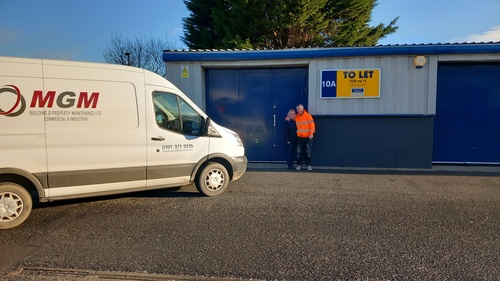 View PDF
---
« Back