16th August 2022
Whittle Jones; managing agents acting on behalf of Northern Trust Company are pleased to welcome Allied Vehicles Edinburgh Parts to their new unit located at the 29,044 sq ft, 14 unit industrial estate; Turnhouse Court in Newbridge.
Allied Parts, who are continuing to expand with the new Distrigo Relay site opening in Edinburgh, completed the letting of Unit 1 of the development on a 3 year lease agreement.
Recruitment is underway for five people initially at the site, a figure that is expected to expand to seven. Parts Department Manager, Chris McKay said increasing demand has led to the expansion. "The rise in business is due to the parts distribution model for Stelantis Vehicle Manufacturers Peugeot, Citroen, Vauxhall, Fiat, Jeep and Alfa Romeo. In the Distrigo parts model there are 22 parts hubs in the UK that are set up to sell parts to the motor trade. The success of Allied Parts in Aberdeen and the increased demand from Edinburgh customers has allowed us to open a new site to meet the needs of the motor trade in Edinburgh."
The expansion confirms the huge success of Allied Parts, which last year opened a new Parts Hub in Aberdeen under the stewardship of Chris, in Glasgow, and John Forbes in the Granite City. From its base in Links Street, the hub delivers parts regularly across Aberdeen and Aberdeenshire, north to Peterhead and Fraserburgh and across to Elgin, as well as south to Montrose, Arbroath, and Kirriemuir. Allied Parts already employs 62 people across its Glasgow and Aberdeen sites and the expansion in Edinburgh will take the full team initially to 69. For more details please visit the website at https://alliedvehiclesgroup.com/
Anne Maclaren, Regional Property Manager at Whittle Jones Scotland, said "Allied Parts expansion and their creation of jobs at this new Distrigo Relay site is a fantastic addition to the development and shows the importance of Northern Trust's investment in creating high quality business space for the local area."
The units at Turnhouse Court range in size from 1,089 sq ft up to 4,175 sq ft, and are arranged over 3 terraced blocks with the central block incorporating back to back units.
The high specification units have been constructed with each unit incorporating integral office space, as well as benefitting from dedicated parking directly outside the property and generous circulation space.
Lewis Pentland, Director for Industrial and Logistics at Colliers, joint lettings agents on the scheme added "We wish Chris and the team all the best with their expansion. We've been really pleased with the uptake in units at Turnhouse Court since completion a couple of months ago, with 50% of the estate now let."
Turnhouse Court is situated in the heart of Newbridge, off Cliftonhall Road, close to the M9 and M8 interchange. There are also plans for a second phase of development incorporating four larger units arranged in a single terraced block with sizes from 8,877 sq ft up to 15,150 sq ft.
For more details on the Turnhouse Court or to register your interest in the available space you can visit the dedicated website at www.turnhousecourt.co.uk or contact one of the joint lettings agents at: Whittle Jones Scotland on 0131 220 4844 or Colliers on 0131 240 7523.
- End –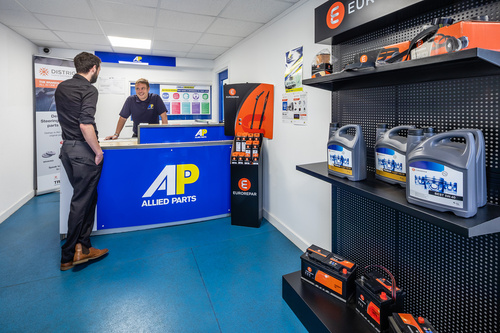 View PDF
---
« Back