21st July 2022
Whittle Jones, agents acting on behalf of Northern Trust Company, are pleased to announce that they have completed the 16,000 sq ft letting of Unit 2B at their East Tame Business Park to Chandley Ovens.
The letting was completed on a 5 year lease agreement.
Chandley Ovens was first established in 1944, and offer the best of British design and innovation combined with over 75 years of engineering excellence. From their first ovens manufactured in the 1940's right through to the present day with their industry-leading Compacta deck oven, they constantly strive to innovate and make their ovens the very best they can be. In 1968, Eric Dyson joined Chandley Ovens and his family would later come to inherit the company. In 2022, the Dyson family passed the mantel on to the companies' employees in the form of an employee-owned trust.
Emma Pattison on behalf of the new Board of Chandley Ovens said; "The gifting of the company from the shareholders to all the employees is an extraordinary act of generosity and reflects the traditions of the old company. We at Chandley Ovens are excited to begin our new venture and look forward to manufacturing our bakery deck ovens alongside our smaller Artisan range in our new modern premises for many years. We are excited for the next chapter in the Chandley story."
For more details you can visit Chandley Ovens website at https://chandleyovens.co.uk/
East Tame Business Park covers 236,027 sq ft of industrial / warehouse accommodation split across three blocks; and is conveniently situated in Hyde, Cheshire, approximately 8 miles to the east of Manchester City Centre.
John Marrow, Regional Property Director at Whittle Jones, added "Unit 2B was refurbished to a high standard, providing a mix of open plan warehouse space, storage and integral offices. Northern Trust's investment into the estate over the last few years has ensured that we have been able to attract high calibre of occupiers; and I am delighted to welcome Chandley Ovens to East Tame Business Park, which is now fully occupied."
Mark Sillitoe from Williams Sillotoe acted as joint lettings agents on behalf of Northern Trust.
For more details and current availability within the Greater Manchester area please call the Whittle Jones North West team on 01257 238666 or via email at northwest@whittlejones.co.uk.
- End –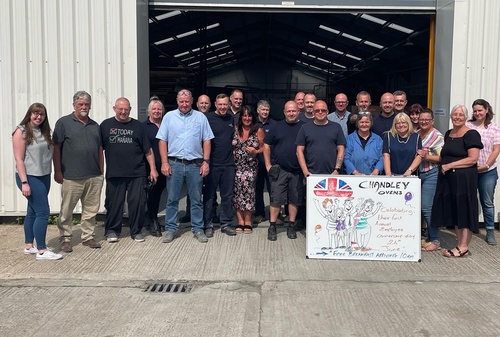 View PDF
---
« Back