9th June 2023
Northern Trust Company Ltd is pleased to confirm that their new £3m industrial development at Sandbrook Business Park in Rochdale is now fully let within 7 months of being completed.
The new 26,611 sq ft scheme, completed in October, is located off Sandbrook Way at the end of the A627(M), and has added 11 workshop / industrial units and 3 hybrid business units, to the existing 18,454 sq ft of modern office accommodation at the site. Foodservice Equipment Spares Limited are just one of the new companies who have recently moved into one of the units at Sandbrook Business Park.
Caren Harvey MD of Foodservice Equipment Spares commented "We chose Sandbrook Business Park because of its direct access to the M62 and wider North West motorway network as well as being conveniently located to nearby amenities. We work with the market's leading brands, supplying spare parts for all types of commercial catering equipment. FES was founded in 2018 and has over 45 year's industry experience. The ability to agree terms and take space on Sandbrook Park has enabled us to grow the business." For more information please visit the website at https://foodservicespares.com/.
The workshop / industrial units are arranged in two facing terraced blocks with units ranging in size from 549 – 2,215 sq ft; whilst the hybrid / business units are arranged as a detached 5,056 sq ft unit incorporating ground and first floor offices; and a pair of semi-detached units each comprising 3,312 sq ft including first floor mezzanine.
John Marrow, of Northern Trust, said "I am pleased to welcome Foodservice Equipment Spares and all the other occupiers to Sandbrook Business Park. The demand for the new space has been encouraging with this development providing much needed high quality business space for small and medium sized enterprises looking to set up or relocate to the area. To have all of the units let within 7 months since completion of the development is testament to the hard work of the team and our joint letting agents on the scheme, Nolan Redshaw."
Jonathan Pickles, Senior Surveyor at Nolan Redshaw, added "The scheme at Sandbrook Park has been a tremendous success and highlights the demand for quality hybrid / industrial space in Rochdale. Fourteen units have now been let with the majority terms being agreed prior to PC with many tenants locating from premises in the nearby vicinity. Northern Trust has once again provided an outstanding scheme that is of high-quality design and specification".
For more information, please contact Northern Trust on 01257 238666 or Nolan Redshaw on 0161 763 0828. You can also visit the dedicated website at www.sandbrookpark-rochdale.co.uk.
- End –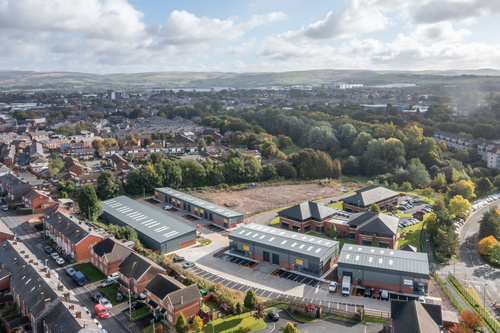 View PDF
---
« Back